These Are the Heroes with the Passion to Transform Their Communities
Sonesh has been dedicated towards the cause of social upliftment of under-privileged people and brining sustainable change in their lives. He has been working towards enabling people with the power of education and started initiatives for rescue, relief and settlement of lesser privileged people who are forced to live of roads and deprived of food and basic medicines. His dedication towards social upliftment has been an inherent trait as even during his school times he use to teach children of maids in his society in Bhopal and later in 2006 he got actively involvement and helped set up a school at a village in Gurgaon. Later in 2013, he brought together like-minded people to bring larger and more scalable changes in our society and this led to formation of a group of volunteers called Human for Human (H4H) with first group of 150 volunteers who all came together with the help of social media. These volunteers then started with annual winter drives that has helped thousands of people living on the roads by providing them with warm clothes, blankets and food. Later the team started scholarship programs which helps girls from under-privileged family to complete college education. Today H4H is a volunteer driven movement where there is no person leading anything and everyone is working towards the cause of creating a better world around us. Some of the key initiatives includes offering scholarships to girls who drop-out of colleges due to financial problems, providing quality education to hundreds of children in urban villages in NCR and trainings to people with a focus on making them employable. H4H also has women empowerment projects, tree plantation drives to fight climate change, winter drives to help people living on the roads in winters and scholarship programs for deserving children from under-privileged families.
Rashu is well-known for her event and brand management skills but she is also a devoted social worker who has been founding member of high impact projects like Devi. These projects have transformed lives of many women who were earlier trapped in the house and daily kitchen work. Rashu then helped create training programs focused on employability and spent months convincing family members of these women to let them work outside. Today she has helped train hundreds of women and also helped them get jobs which has not just got them self-respect but also let them shape better future for their families. With her initiatives a lot of women can now send their children to schools and support family in lot better ways. At H4H, Rashu is a founding member and helps us especially with women empowerment projects.
Author of book "Trapped: Discover Yourself And Reinvent Your Life" and a famous speaker, he is a young mind shaping future of our country. He has been an H4H member since its initial days and played a major role in our winter drives and setting up of educational projects. Rajat is a dedicated person who will go any length to work towards a goal and this hard work has payed with various benefits to the society. Today, our educational projects are helping hundreds of students from under-privileged families to get quality education along with facilities like computer classes, library and even annual function which has given them a sense a pride and motivation to work hard and overcome the barriers of poverty. 
Gaurav is the inspiration and motivation behind our first educational project which is now giving benefits to hundreds of children living in urban villages of Gurgaon. He has also helped us run nourishment programs for malnourished people, rescue and relief work of people living on the roads or who ended up in accidents with no place to go and he spends every night in winter to distribute warm clothes to people forced to spend their lives on roads. Few things you will always find in his car will include clothes, biscuit packets and water as he tries to help people at every step in his life. He is a founding member of H4H and been a source of motivation.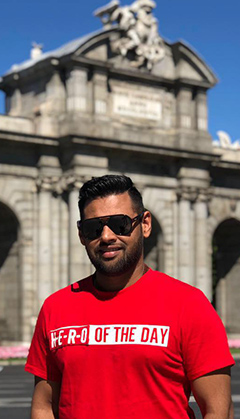 Anuraj is an advisor for H4H and he helps us create practical projects which are can bring sustainable change and not just a one-time benefit. He is our go-to person when it comes to project planning and has also been active in our winter drives since 2013. With his advice and support, our projects are designed in a way that they are not single person or sponsor depended and they will continue to benefit people in any eventuality. He has also been a driving force behind project Devi which has given respect and financial independence to hundreds of women across Delhi-NCR.
Palak has worked with leading news channels like Zee News, E24 and 9XM and runs a production house where she has worked with celebrities like Shilpa Shetty and Akshay Kumar. Along with her work, she has dedicated her time to H4H with a mission to help fight social evils like hunger, illiteracy, cleanliness and providing relief to our elders and needy. She is a volunteer and advisor who is working along to not just eradicate these social evils but also help create a self-reliable and self-capable society with the help of education and women empowerment. She has also been an integral part of our winter drives and guides us on creating awareness about various social evils and let willing volunteers be part of this effort of bringing change.
Zay Yar or Max as we fondly call him, is one of the first volunteer to be part of H4H initiative and has been part of everything from winter drives to setting up schools to rescuing and helping elders on the roads. He is a self-motivated person with a golden heart as he will never stop working for the society despite anything that may happen. Max has done winter drives all by himself as he was not able to get other volunteers for a late-night drive and once when he heard that some people are stuck and hungry at a remote location then he drove 60 kms to ensure he delivers food and medicines before anything adverse happens.  Max is now helping us in relief and rescue work and winter drives that has helped thousands over the years.
A passionate biker and corporate, he is a person who beliefs in working on projects that help drive real change in our society. He has helped us in numerous winter drives and been a key member in helping us set up our first educational institution which is now helping hundreds of children get quality education. The age old saying which is that 'action speaks more than words' is true for Anuj as he unstoppable when it comes to execution of projects. He is not just a key member of our volunteer group but also helps us in drawing execution strategy and setting up projects teams with a larger vision of meeting goals that helps our society at large.
Active member of our volunteer group, Surbhi is helping us to set up our internship program and creating awareness programs that helps us to get likeminded people who can further work towards eradicating various social evils. She is also working towards creating a foundation that will help us create independent projects that can run irrespective of any individual, as humans deserve help beyond any barrier and restrictions and soon we will be able to do that.